Wi-Fi Multimedia (WMM) is a Wi-Fi Alliance certification based on the IEEE 802.11e draft standard. It provides basic QoS features to IEEE 802.11 networks. Prioritizing VoIP traffic over less time-sensitive transmissions allows reducing variability in the transmission of the VoIP packets. Using QoS is a simple and inexpensive solution to greatly improve the quality of VoIP calls.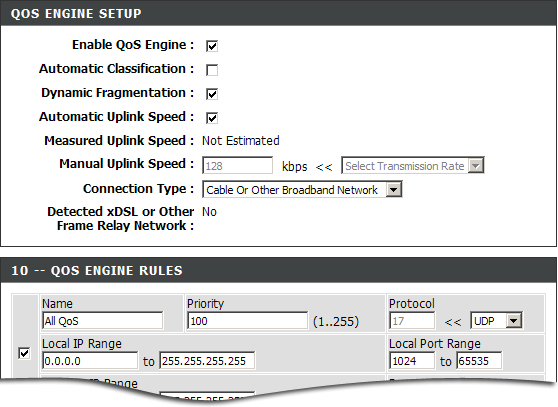 When you configure QoS on a wireless network, you specify and prioritize the VoIP traffic. In effect, a wireless access point will apply congestion management and congestion avoidance methods to ensure the priority transmission of the VoIP packets as opposed to the regular best-effort delivery technique. Implementing QoS in the wireless environment network allows getting more predictable performance and better effective transmission rates, reducing VoIP jitter and the effects caused by dropped and out-of-order packets. Enabling QoS is generally as simple as adjusting the settings in the endpoints and the wireless access point. The screen shot above illustrates a typical QoS engine configuration of an access point. QoS has arguably the best price/performance ratio of all adjustments to the configuration of a wireless network.
While configuring QoS in an access point appears to be a simple task, it's important to verify that the QoS works as intended, i.e. the QoS engine rules are correctly applied, VoIP packets are prioritized while others are not, and that the wireless nodes involved in VoIP communications support WMM on the driver level. Since a wireless network monitoring tool can capture and decode individual packets, it is quite possible to examine the captured packets for QoS compliance. Specifically, for the packets that are used in VoWLAN communications, the Data Subtype should be set to "QoS Data," and the QoS Control field that contains the data priority level should be set to a non-zero value. Respectively, in non-VoIP packets the QoS Control field should be set to zero. If the Data Subtype is set to "Data" rather than "QoS Data" for some of the clients, this typically indicates that the client is not WMM-aware on the driver level.